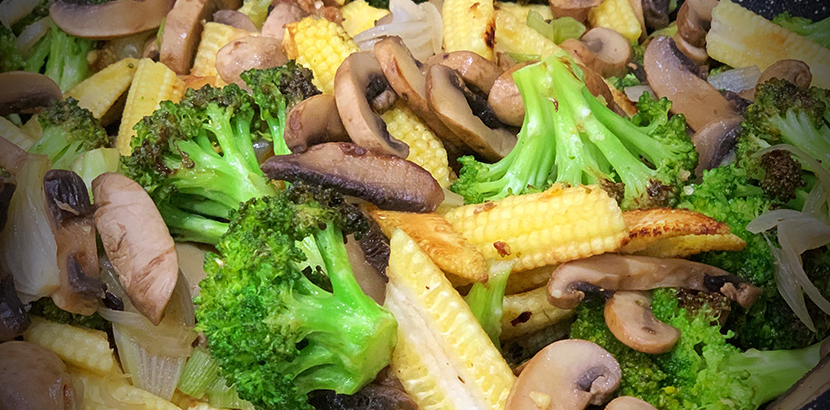 Broccoli, Mushroom and Babycorn stir fry is a delightful recipe is not just delicious but also quite healthy as it is loaded with fiber and the goodness of vegetables. As the name suggests, the main ingredients used in this mouth-watering vegetarian recipe are broccoli, mushroom and babycorn. This lip-smacking dish is perfect for brunch, lunch or dinner. Try it!
Ingredients
1 tbsp oil
1 cup spring onion
2 tbsp of white wine vinegar
1 tbsp soy sauce
2 cups of Mushrooms (diced)
1 cup of Broccoli (trimmed ends)
1 cup of Babycorn (chopped)
1 tbsp finely grated ginger
2 cloves of garlic finely chopped
2 tbsp sesame seeds
Salt to taste
Method
Heat the pan on a medium flame and add the oil, ginger and garlic until the ginger turns aromatic.
Add spring onion whites until they turn slightly golden.
Add broccoli and baby corn and sauté for 3 mins until they are tender and crisp.
Add mushrooms, vinegar and a pinch of salt. Mix together and cook for another 3-4 mins until the mushrooms are cooked and residue water disappears
Add a teaspoon of soy sauce and spring onion greens. Mix well and cook for another 2-3 mins. Garnish with sesame seeds.