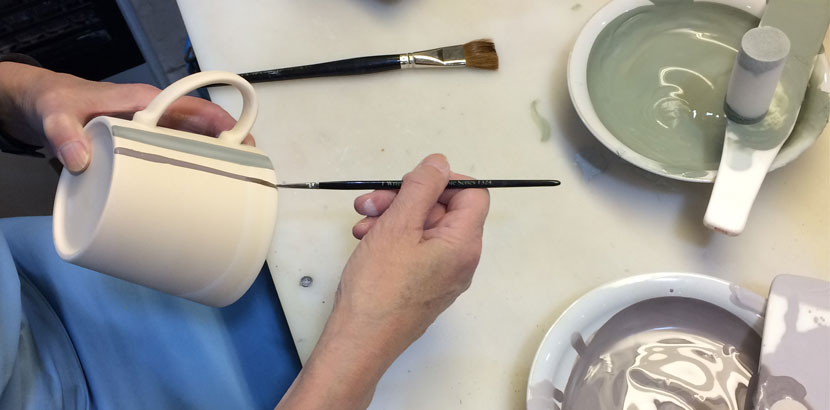 The tiny village of Denby in Derbyshire, England is renowned the world over as the birthplace of Denby Pottery Company Ltd. Backed by an illustrious history of 209 years, Denby Pottery (or simply known as Denby) has grown into a universal brand producing superior ceramic tableware that brings beauty and practicality to everyday life!
Today, Denby's enviable and artistic collection of dinnerware, cookware, and glassware adorns homes in the UK, USA and the rest of the world. Indians can soon experience Denby's kitchen magic through ThinKitchen, India's unique and transformative multi-brand kitchen store in Mumbai.
Let's explore Denby's legacy to understand its universal appeal and popularity.
From humble clay origins to artistic masterpieces
Way back in 1906, William Bourne – a Denby entrepreneur – discovered a bed of clay at a construction site. He realized its potential and launched pottery production in 1809. Initially, the company focused on stoneware bottles to store a variety of items such as pickles, medicines, polish and water.
As years passed by, Denby became popular for its wide range of kitchenware. From the 1920s, there was a huge demand for Denby products that were marketed as 'Danesby Ware'. This is because renowned sculptor Donald Gilbert had joined the company and made use of Denby's internally developed glazes to produce some of the finest kitchenware the world has ever seen! These collections became classics and are in high demand by collectors today.
Denby of 2018 and beyond!
The last decade has witnessed substantial investment that helped Denby combine traditional potting skills with the latest in ceramic and glazing technologies. As a result, Denby is currently renowned the world over for tableware and kitchenware that's stylish, practical, durable, and long-lasting!
One factor that has helped Denby become a success today is its ability to manufacture contemporary-styled products that match the ever-changing lifestyles of consumers across the world.
Denby's mastery over launching themed products that can strike a chord with audiences is legendary. Let's take the example of Denby's Studio Blue Collection. Produced using ceramic crafting techniques, this stoneware collection provides a calm and pleasant visual experience during laid-back dining!
Another example is the Halo collection that features artistic tableware with two tones of glaze for a striking and speckled finish.
Denby's drinkware collection features an eclectic mix of mugs, wine glasses, tea pots, jugs, cups and saucers, and lots more! The durability and convenience offered by Denby's drinkware range is second to none.
Another area where Denby scores is its extensive range of plates. Apart from dinner plates, Denby has plates in small, medium and extra large sizes. Denby's plate sets are popular as well.
These pictures provide you with a glimpse of what we have in store for you at ThinKitchen. Indian shoppers can now buy Denby's admirable range of products on our website or visit the ThinKitchen store, which is located on the 1st floor at Palmon House, Lower Parel, Mumbai. Have any questions? Feel free to call us on +91 7045 22 33 55, email us at store.parel@seebagroup.com, or connect with us on Facebook!