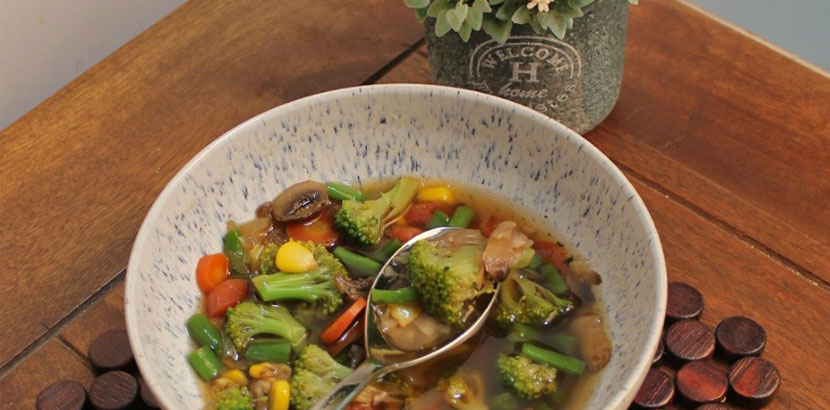 The best way to detox is to include a lot of fiber in our diet along with nutrients like vitamins and minerals which cleanse the body. This soup does exactly that with loads of vegetables cooked in a flavorful, nutrient rich vegetable stock and herbs. The stock can be made with vegetable scraps hence using every part of the vegetable. The vegetables can be seasonal and local. You can also give it an Indian twist by using whole spices like peppercorns and cinnamon to flavor the stock. The important tip to remember is to not to peel the vegetables to maximize nutrition and help in detoxing.
Serves – 2
Ingredients

1 cup chopped vegetables (carrots, French beans, broccoli, mushroom) 
1 medium sized onion finely chopped
3-4 garlic cloves chopped
2 cups vegetable stock
½ tsp dried herbs like basil, oregano, rosemary
¼ tsp unrefined salt
¼ tsp black pepper powder
Method
In a heated pan, add chopped onion and garlic and sauté till it's translucent. Add the chopped vegetables and sauté for 2 minutes till they brighten up in colour. Add the vegetable stock and herbs. Cover and bring it to a boil. Add salt and pepper as per taste and simmer for a minute or 2. Don't overcook the veggies. Serve hot.