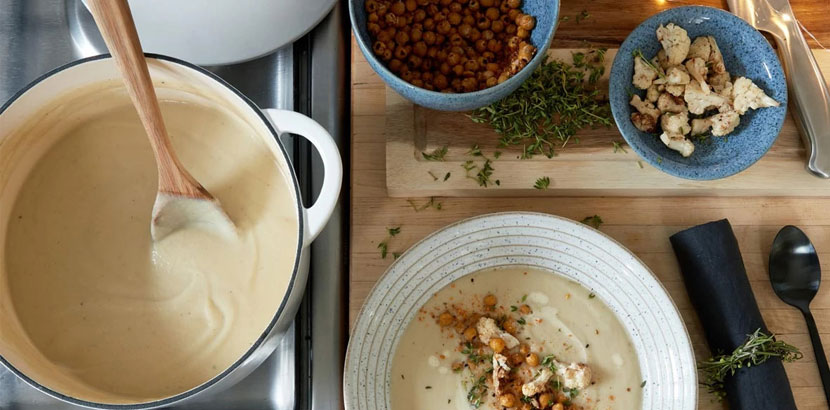 Roasted cauliflower with aromatic cumin makes a sublime, flavourful match, add in a dash of Harrisa, and the entire recipe is taken to a whole new level. Harrisa, a North-African condiment, is made from chillis, spices, and herbs and is known to be aromatic and spicy. If you are new to Harrisa, fair warning, the intensity of the spice can make you sweat a bit. Best to use sparingly and then increase the heat as you go along.
What To Expect: A healthy soup that packs a spicy punch.
Why We Love It: Its cauliflower with a zing!
Cooking Time: 30 Mins
Difficulty Level: Medium
Serves 4
Ingredients:
1 cauliflower
1 large onion, finely chopped
2 garlic cloves, chopped
2tbsp olive oil
4tsp harissa spice
1/2tsp fresh thyme
1 ltr vegetable stock
100ml double cream
1 tin chickpeas, drained
Method:
Roughly chop the cauliflower, even the stalk as this is full of great flavor.
In a large saucepan add 1 tbsp of the olive oil and gently fry the onions and garlic until soft.
Add 2tsp of the harissa spice, fresh thyme and 3/4 of the cauliflower and continue frying for approx. 5 minutes.
Pour in the vegetable stock, simmer for 15-20 minutes until the cauliflower is soft. Leave to cool slightly before blending.
Whilst the soup is cooking, toss the last of the cauliflower with 1 tsp of harissa spice and roast in the oven until soft. About 200°C / 180°C fan / Gas 5.
Pop the drained chickpeas into a

 

frying pan

 

and cook over medium heat until they start to char a little. Add the tsp of the harissa spice and continue to cook for 2 minutes. Leave to cool.
Blend the cooled soup until smooth with the double cream and add a little salt and pepper to taste.
To serve, spoon the soup into bowls, top with the roasted cauliflower, charred chickpeas, and a little thyme.