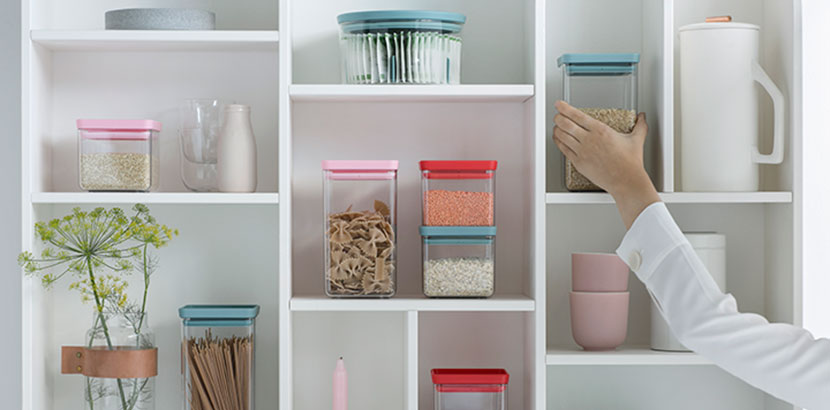 In 2019 vibrant interiors are more popular than ever and maximalism is in the spotlight, as subdued shades and neutral colour palettes make way for greater expression of personality in the home. British pottery, Denby has seen the growing preference for bright choices, as shoppers increasingly select ceramics in a broad palette, extending beyond the traditional white dinnerware.
The growing use of bold tones has been recognised by Pantone's Colour of 2019 – 'Living Coral', which reflects that vibrant shades are being embraced in the home. Denby's own Heritage Piazza range, with blush pink tones, is a stylish way to introduce this colour way into interiors. Trend forecasters Scarlet Opus have also noted the use of intense colour. 1 One of their key trends highlights the use of vibrant colours to create an aesthetic that is both confident and uplifting. Perfectly in-keeping with this movement is the introduction of clean brights via a collection of ceramic pieces that can be used to add a colour pop. The unique blue glazes of Blue Haze and Imperial Blue contrast well and allow for experimentation across the palettes.
A colourful table setting can transform the mood of a room for a special occasion and generate Instagram-worthy food shots. Shoppers continue to become more confident with their own styling, experimenting with design and brave use of colour, inspired by endless online inventiveness. Social media provides the chance to share ideas, take notes from styles seen online and combine it with a personal flair.
The importance of colour to interior design can be clearly seen in the 'maximalist' trend, where striking clashes of colour and pattern offer a bold and playful way to express personality in interiors as the tones of griege become less and less popular. On the dinner table the trend can be brought to life through the intricate designs of Monsoon Fleur juxtaposed against bold tones of Monsoon Cosmic, creating an exciting combination and adding drama to a space.
A contrasting result can also be achieved with more neutral ranges such as Natural Canvas or Studio Craft. Perhaps more suited to those who have already experimented with colour via interiors or tableware dressing, the pieces from these collections will provide a stylish constant.
Colour play can be extended beyond ceramics as accessories allow for further experimentation with bold tones on the table along with colourful spoon. The introduction of bright linens and coloured glassware can beautifully highlight Denby tableware, whether it's a combination of complimentary tonal colours or the use of clashing pattern and shades to add vibrancy. Richard Eaton, Head of Design at Denby says, "Introducing colour into the home allows for experimentation with interiors that have a playful and expressive touch. As confidence grows we are only going to see more colour play and vibrant styles within the home, and the breadth of tones and textures within Denby's collections offer a great opportunity to test out the latest colour trends." Denby has a rich heritage of creating tableware, cookware and serveware, which, by carefully observing needs and real lives, enables it to create products with purpose and soul. Beautiful and functional ceramics and homeware that are truly styled by life.