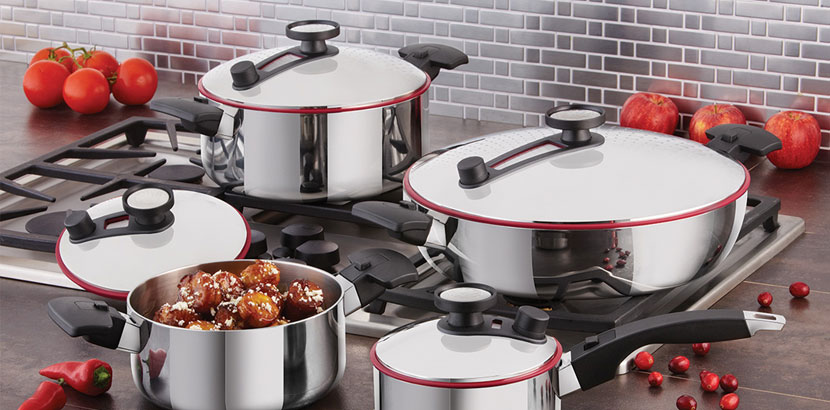 With dozens of pots and pans to choose from in different shapes, sizes, and material, ever wondered what's the difference between a frying pan and a skillet?
The right type of cookware can help you cook better but picking the right one to fit your kitchen needs can be daunting – whether buying your first set of cookware or looking to replace old ones!
So how do we choose the right pot or pan? Well, that primarily depends on the type of cooking and how much you are cooking. Our cookware buying guide will help you select the cookware that meets your cooking needs. So here is an essential list of five pieces below to help you cook meals seamlessly and get the job done – whether cooking on your own or with household help!
1. Frying Pan
A few inches deep with slanted sides and a lid, the frying pan has sides that flare outwards. It is most versatile in the Indian kitchen and perfect for preparing your traditional breakfast fry-ups.
Best for: Fast cooking, turning, and flipping, searing.
Consider:
8-, 10- and 12-inch fry pans are most useful. Including at least one size of frying pan in your kitchen is a must-have. The Gourmet Skillet with Cover is the fry pan in the Royal Prestige Innove range that gives you the flexibility to cook almost anything with less than a drop of oil.
2. Sauce Pan
As the name suggests – a sauce pan is best for making sauces! It has a flat base, is deep and usually comes with one single long handle.
Best for: Simmering together a smooth sauce or liquids, boiling eggs, cooking small quantities of grains and pulses conveniently.
Consider:
A 2-quart or 3-quart sauce pan can make cooking easy. It is a must-have to cook kids' food separately.
3. Saute Pan or Skillet
A saute pan or a skillet is one of the important pieces of cookware in the kitchen. It has straight sides, a wide flat bottom, a long handle, and a lid.
Best for: Ideal for tasks like sautéing vegetables, chicken breasts or filet of fish, scrambling eggs, and searing meat.
Consider:
A 2-quart saute pan will be a good start and is perfect for everyday cooking. A 4-quart pot is sufficient for big-batch cooking.
4. Dutch Oven
A sturdy, well-constructed Dutch oven will have a flat bottom and vertical sides that are slightly shorter than the diameter of the pot and two side handles. It is a deeper pot and a versatile piece for everyday cooking.
Best for: Everyday cooking, cooking with liquids, roasting, baking, frying, and stewing.
Consider:
A Dutch oven is the perfect cookware to hold a variety of ingredients inside with its tight-fit lid. The 3-quart, 4-quart, and 6-quart are popular and useful sizes.
5. Griddle or A Steel Tawa
A well-defined griddle is flat with a broad surface and sits flat on the burner. This allows for heat to distribute evenly and cook to the desired charred flavour.
Best for: A griddle has a large cooking surface and is perfect for cooking foods that require a large surface – barbeque-styled food, burgers, or grill vegetables. It can also be used for flash-cooking like your daily rotis, chillas, frying eggs, sandwiches, and pancakes to scrambled eggs and more!
Consider:
Fixing your family's special breakfast dishes will be easier than ever with an 11-Inch Square-Griddle with curved rims to avoid spilling.
We're certain our essential list of five pieces will serve all your cooking needs. Most importantly, these pieces are versatile, functional, and durable – lasting you a lifetime!
To know more on cookware materials, check out "Is Your Cookware Harming You?"
Want to try before you buy? Call 7045223355 or book your demo here.