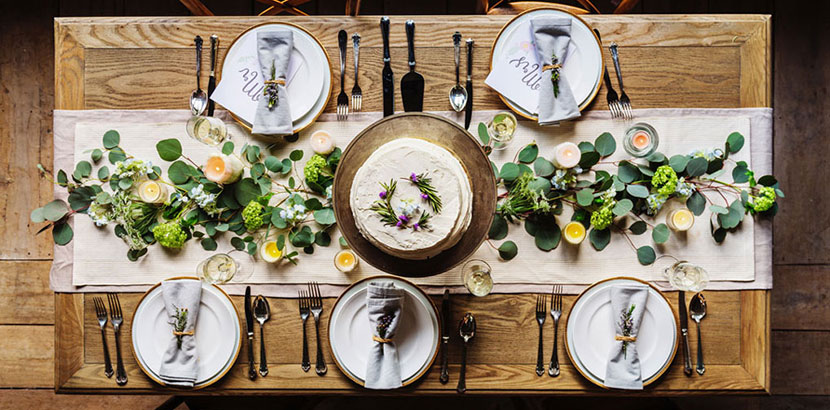 The way you set your dining table is more or less a reflection of your personality. Therefore when hosting friends and family it has now become very important to ensure that your table setting looks inviting and is able to enhance the plating of your meals. Here's a list of must-haves glassware, which can add a bit of charm and panache to your dinners, whether it is your usual family dinner or an upbeat party.
1. Table Linens
The first thing required is to set the scene. Table linens are a key player in defining what sort of dinner you want to host, and when mixed and matched properly, they can surely set the right vibe for the party. A popular trend is using table runners and accessorizing them with plant runners. This gives a rustic feel and makes the overall experience very elegant. So other popular linens are the checkered table runners or cork/wicker placemats.
For more festive occasions, table linens can also be mixed and matched to get the right look. For example, most of us would have attended a Christmas dinner with red table napkins and perhaps green placemats.
2. Dinnerware
The highlight of any table is, of course, the plates and bowls. The quality and feel of your dinnerware are vital to accentuate the look of your plating. As they say, how your dinner looks, can affect how it tastes too. When selecting dinnerware, it is important to select something, which can be a staple in your kitchen and can be used for multiple occasions. Unless you are a collector of fine dinnerware, most usually invest in one or two good sets of dinnerware. A leading option in the dinnerware section is Denby – Handmade In England. Our favorite dinnerware brand has some of the finest stoneware collections available; all are extremely qualitative and are a perfect match for any occasion.
3. Glassware
With glassware, more is less. You can never have enough glasses in your collection. The usual dinner table usually has two glasses, one for water and one for a beverage. But, often there are pre-drinks and post-dinner drinks, which may require different glasses such as champagne flutes or beer mugs. And of course, it is ideal to keep a few spare glasses for any visiting children.
4. Flatware
Just like your glasses, you can never have enough cutlery. An ideal way to set your dinner table for casual dinners is to just haul in all the cutlery in a single stand and place it at the center for everyone to pick as per their use. However, when it comes to formal dinners placement is everything. Two simple points to note:
– Place the cutlery set in order of use, with the placement starting outwards of the place setting and moving inwards.
– As most are right-handed, the knife and spoon are on the right side and the forks are laid on the left.
Also, you can once again follow the mix-match rule for setting the cutlery. Use whatever is required for the occasion. We absolutely love Amefa's cutlery. The great thing about Amefa is that they have some cute options available for children too.
5. Table Accessories
The last step in table setting is the accessories. Even the simplest tables can be transformed into something magical with the right accessories. From silver candlesticks to vintage napkin rings. There are many options available which match your theme and the mood of the party. Consider this more like the finishing touches of your table setting.