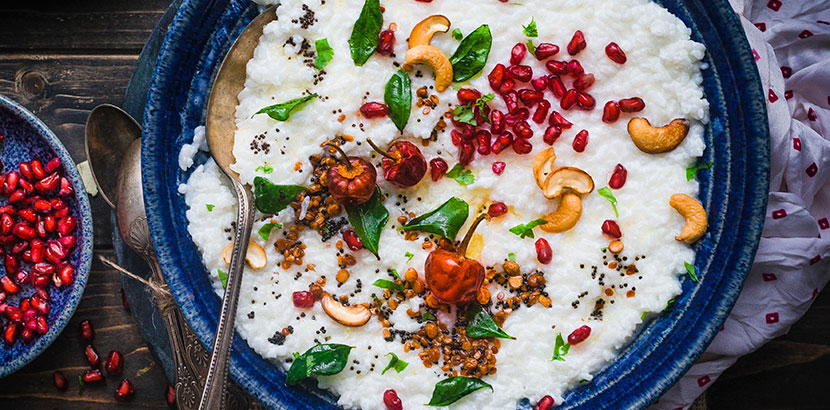 For Dussehra, Sandhya's Kitchen has created this delicious Thayir Sadam recipe to enjoy during the festival using our beautiful Studio Blue Cobalt Ridged bowl.
Why we love it: Its simple and healthy for this festive season!
Serves: 4
Ingredients:
1/2 Cup Rice
Water as needed
1 – 1 1/2 Cup Yogurt
1 /2 Cup Milk
Salt as needed
1/8 tsp Asafoetida (optional)
1/2 tsp Ginger, finely chopped
1 green chilli, finely chopped
Oil
1/2 tsp mustard seeds
3/4 tsp urad dal
3/4 tsp channa dal
8-10 curry leaves
3 Red Chilli
6 cashew nut, split into half
2 tsp Coriander leaves, chopped
2 Tbsp pomegranate
Method:
1. Cook rice in pressure cooker or in an open pot and allow to cool down.
2. Add warm milk and mix the rice well.
3. Add yogurt, salt, ginger, green chilli and asafoetida to the rice and mix well.
4. To prepare the tempering heat oil in a pan and add mustard seeds. When the mustard seeds begin to splutter add urad dal, channa dal, dried red chilli and cashew nut. Fry until the dal turns brown.
5. Turn off the flame and add curry leaves, allow the curry leaves to crisp.
6. Pour the prepared tempering to the curd rice.
7. Add coriander leaves and pomegranate on top and serve.