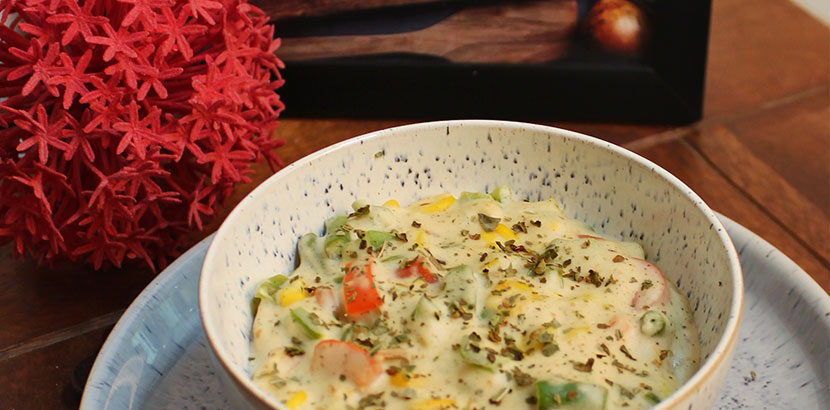 Who doesn't love cheese? But dairy cheese is full of harmful ingredients like hormones and chemicals making it unfit for human consumption. To achieve detox on a day to day basis its good not to take in unnatural ingredients and cook food in the right way to get better nutrition. In this recipe we are using raw cashew cheese and cheesy potato sauce to get the same flavor and texture. Also, we are not using any grains making it easier on the digestive system. The recipe is also versatile wherein you can make it on the stove top or can bake it.
Serves –  4
Ingredients

1 cup chopped vegetables (carrot, french beans, corn) 
1/2 cup diced colourful peppers
1/2 cup steamed unpeeled potato
1/2 cup-soaked cashews
3-4 garlic cloves
1/2 tsp mustard powder
1 tsp chilli flakes
1 tsp unrefined salt
2-3 tbsp raw cashew cheese
Method
In a heated pan add the chopped vegetables other than peppers and sauté till they brighten in colour. Don't cook them much they need to stay crisp. In a blender add the potato cashews garlic mustard powder chilli flakes lemon juice and salt and make a paste by adding 1/2-3/4 cup water. Adjust the seasoning. Pour this sauce on the vegetables in the pan and mix well. Bring it to a boil. Add the peppers and stir well. Add the raw cashew cheese and mix well. Cover and cook till the casserole thicken. Alternately can bake in an oven at 180C for 30 minutes. Serve hot.